I was blessed to be a Coach and Speaker at the 22nd annual Women in Technology Summit. The event had great energy and a clearly positive vibe.
I led two Coaching Circles: one on LinkedIn and the other on Small Business. At the latter one I was asked a really good question that's pertinent to owners of small businesses. The question was: "How important is having a story as a small business owner?"
How important is having a story as a small business owner?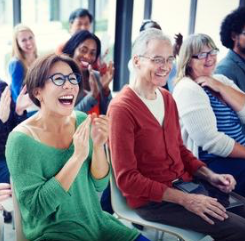 My answer was that it's REALLY important. A great story will draw people in to your business with curiosity and interest. It's your hook. After you've hooked them your offering should take over.
The 11-year-old Shark Tank Contestant
Here's an example, 11-year-old Mikaila Ulmer was on Shark Tank with her special variety of lemonade. The recipe it's based on originated with her grandmother. Mikaila updated the recipe by adding some local honey and other ingredients and wants to support bees with some of the proceeds. The lemonade is now called Me & The Bees Lemonade. Can you imagine this little girl coming to the auditions for Shark Tank among all the older entrepreneurs? She stood way out.
Her story hooked them and got her a $60,000 investment. It also hooked Whole Foods. They loaned her some working capital to increase her flavors and ramp up production. Her lemonade is sold in 55 Whole Foods markets. The first link on her site is Our Story.
Shinola
Have you heard of this brand? It's based in beleaguered Detroit and their flagship product is a line of reasonably expensive watches. In reality this brand was built from the ground up to be an American success "story". The founder, Tom Kartsotis, made his riches from the Fossil watch brand and came up with this great story that he believed would capture hearts and minds: A new great American brand that is made in Detroit by people formerly displaced by offshoring. They even invested a pretty penny to purchase the Shinola brand name, which dates back to WWI. The plan has worked beautifully. Their revenue last year exceeded 100 million dollars according to this Inc article.
So, What's Your Story?
Now you may not think you have a great story behind your brand, but I believe you do. You may have to dig back in to your past, ask a few people who know you well, and even get a creative writer to help you put it in to words that hook people in. BUT, IT'S WORTH IT. As Shinola, and Me & The Bees have proven, you can take your story to the bank.