This blog post originally appeared on The Constant Contact Community Blog.
In my last post I explained the basics about Yelp and how to get started listing your business on the site. This time we'll go deeper and talk about the dreaded Yelp filter, how to deal with bad reviews, statistics, and advertising considerations.
The Yelp Filter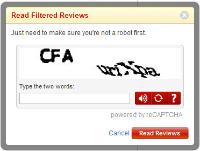 Let me explain the Yelp filter. It's an automated process whereby certain reviews are hidden behind a Captcha and not incorporated in to a business's Star rating. Why do they hide certain reviews? Yelp explains it best in this blog post and video.
Now I certainly don't have the details on how the formula decides on a review's legitimacy, but I have some ideas. I think a person's first review when it's glowing or an outright slam is often filtered.
Yelp seems to believe that a first time review that's extreme just might either be a favor in action, or a disgruntled employee or malicious competitor. I've seen a real review get unfiltered once the Yelper (person who wrote the review) wrote a second real review on another business. Thus, a filtered review can get unfiltered.
As they say, the filter's imperfect. What's also imperfect is that there is no legitimate process for a business to get a real review unfiltered or an obviously fake malicious review filtered. I'd like to see Yelp improve in this area.
Dealing With a Bad Review
Yelp says that bad reviews actually balance the perspective on a business and make everything look more real. In a way I agree with this. No business is perfect and the idea that they never do anything wrong as it would appear if they only have 5-star reviews seems flawed. This is to say that you should wear a bad review proudly as a sign that you're running a real business and that you're human. Of course, that's difficult in reality.
If you do get a bad review you can publicly or privately comment to the reviewer. If there are inaccuracies in the review you may want to first write a private note explaining the issues and asking for a revision. If the reviewer is unwilling to do so for whatever reason, then you should write a public comment that isn't accusatory or argumentative, but simply and concisely states that you are committed to customer satisfaction and would like an opportunity to make it right with this reviewer. You want to look concerned and supportive.
If the review is defamatory, then you should contact Yelp directly asking for help to remove the review.
In the case of a positive review you can also publicly comment thanking the reviewer for the effort they've made to express their satisfaction with your business.
I have a strong feeling that if Yelp would take further steps to positively identify people using their reviewing service there would be less incidence of fake reviews. They tout the value of their millions of reviews though it's undoubtedly the case that a percentage of them are completely fake.
Yelp Statistics
The stats available to business owners on Yelp are pretty lean. Basically what you get are:
How many times your business page has been viewed
How many times a user took an action like get directions to your business or call you
What percentage of searches were conducted by a mobile device
The information can be segmented by different time periods. As your page gets more reviews you should see more traffic and results. I believe this is because your business gains legitimacy as it garners reviews. In the image below you can see the stats from my page over the last 12 months.
Once you claim your business on Yelp and set up your profile you'll receive a weekly email from Yelp telling you how many views your profile has had and how many user actions occurred. A user action would be a click-through to your website for example.
It's valuable to view your stats on a regular basis to see a connection between increased Yelp activity and new leads for your business. You should always ask prospects where they found out about you. When they've read Yelp reviews before contacting you they usually remember, which is good.
Advertising on Yelp
I usually recommend advertising on Yelp to businesses that already have at least 3-5 positive reviews and are seeing some traffic to their business. This is because I don't believe that advertising will help much if the person sees the ad on Yelp, goes to the business's Yelp page and sees hardly any reviews. This goes against the grain of what Yelp is all about. Does that make sense?
If you have several great reviews and are seeing some customers coming from Yelp, then you may find it valuable to step on the gas and see if you can get more. Yelp's ad sales team likes to sign up customers for a 12-month agreement and will give you their best pricing and packages for doing so. Be advised though that you will need to pay a penalty if you want to get out of the contract should it prove to be less than useful to your business. 6-month agreements are also available.
You can advertise on Yelp a few different ways these days.
Yelp Deals. This is similar to Groupon in that Yelp will promote special deals to the site's audience via search results, your page and mobile devices, too. You get 70% of the reduced fee. It's not as bad a split as Groupon and can be a good way to drive traffic to your business during seasonal slumps.
Yelp Gift Certificates. This is brand new and should be very popular during the holiday shopping season. The Yelp community can now buy a gift certificate for any business that sets this up right off their page. Yelp will keep 10% of the fee, which is reasonable in my opinion.
Yelp Monthly Ads. This is what the Yelp salesperson is selling when they call you. Ads are sold on a contract basis (typically 6 – 12 months). Your ads appear on competitor's pages and also in search results. This type of contract also prevents competitor ads from showing up on your page, which is pretty cool. Just keep in mind that the monthly fee can be pretty steep compared to other forms of pay per click advertising. You should be very certain you want to venture forth before signing up as it does cost you to get out as opposed to most types of online ads that can be ceased at any time without penalty.
Yelp Ads. These are straight pay per click ads sold for $3 each. The ads will appear above regular search results and on pages of companies like yours. You can buy as many as you like. You either set up the ad to feature one of your specialties or Yelp will pull a snippet from one of your good reviews. Since this vehicle is very flexible it can be used during slow periods to stoke up some business.
Well there you have it. I hope this comprehensive guide to Yelp is helpful to you. This can be a very powerful site for the small business owner that understands it clearly and uses it effectively.
Please post your comments and questions below.