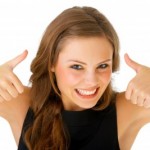 When you look at this article you can't help but look at the picture, right? And as you look at it, you are probably thinking something positive is going on because of the lady's smile and two thumbs up. That's the power of pictures.
This post is intended to encourage you to make the leap to regularly using images that evoke feelings wherever you have words about your business.
We're talking blog posts, newsletter articles, web pages, brochures, PowerPoint slides, and so forth. Don't just rely on words alone to captivate and move your reader. You'll lose against your counterpart that's using rich imagery in combination with the words.
Two recent events reinforced this idea in my mind. The first event was related to advertising on Facebook. I have a client who's dipping his toe in the water on Facebook ads. We were disappointed to find that his first ad, which ran for nearly a month had received no clicks. None. So, he didn't pay anything since we set his campaign as a pay per click. But, that didn't make us feel good about the campaign.
The original ad featured his company logo as the image. In a webinar I attended on Facebook ads the experts at Facebook advised to avoid using your company logo unless it's very recognizable. My client's logo is not well known. (Interested in the webinar? Go to Facebook's Marketing Page on Facebook and click on the Facebook Live tab to find the May 11 webinar replay).
So, we picked the image above and used that along with some slightly adjusted copy. The good news is that the ad started getting clicks. I really doubt it was just the revised copy that caused the change.
The next event was listening to a webinar on blogging from Jay Baer, a new favorite online marketing guru of mine. If you're looking for a guru to follow, go with Jay. Anyway, Jay said that he ALWAYS uses meaningful images as part of his blogs and articles. Nuff said.
I often get asked where I get my images. I use 123RF. They have more than 9.5 million in their inventory, charge as little as $1 a pic, and you can use the one you buy over and over. Simple and inexpensive.
Now it does take time to find just the right image. I sometimes spend 10 – 15 minutes finding one picture for one PowerPoint slide or a newsletter article. But i think it's worth it because the right picture really supports your writing. It's worth the effort. Start using the power of images going forward and you'll see the results of your marketing improve.