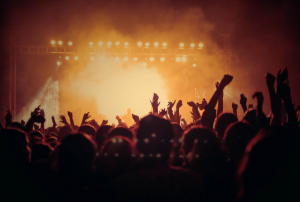 Performer DJ Marshmello recently unseated both Jean-Michel Jarre and Rod Stewart for record-breaking concert attendance. If you are not familiar with the artist, you are not alone. As a matter of fact, Rolling Stone reports that many had not heard of Marshmello prior to the concert. It is expected that only about 20% of viewers were fans of the artist.
That is because the February 2nd performance was a virtual event, played to an audience of avatars at make-believe Pleasant Park in the popular online game "Fortnite." The concert attracted 10.7 million concurrent attendees. 10.7 million people all watching/playing the event at the same time. The total attendance throughout the day was believed to be much higher.
Marshmello's appearance was carefully orchestrated with Epic Games (makers of Fortnite). It was free to all, Epic Games did not require players to buy a ticket or log into a special server. In-game costumes, or Marshmello "skins," were available for purchase for around $15 and a "Marsh Walk" dance move went for $5. Real life merchandise was available as well, including Fortnite X Marshmello sweatshirts for $55. It is estimated that the promotion brought in about 30 million in sales of virtual goods alone (compared to 5-10 million on a typical day), clearly a merchandising success for Epic Games.
Epic Games was not the only beneficiary, however. DJ Marshmello saw a huge spike in media engagement and streaming numbers. His YouTube views increased by more than 100 million between Feb.1-7, his Instagram follower count grew by one million and he was mentioned 50,000 times on Twitter throughout the day of the concert. Billboard reported that the streaming numbers for most of his songs went up by several hundred percentage points, some went up by as much as 24,000 percent! He was essentially handed millions of new fans that day without the expense and energy of physically touring.
The music industry has been looking for decades to find a way into the gaming business and the success of the combined Marshmello/Fortnite event appears to have opened up those avenues. Bobby Owsinski in Forbes Magazine stated that "this could change how artists are presented, and their works monetized, in the future."
This virtual event is just another indication of how marketing is changing in the 21st century. Keep an open mind as to how you market your business. Now one marketing principle that hasn't changed is to be where your target audience congregates. Obviously Marshmello's audience plays Fortnite or there wouldn't have been the tremendous aftereffect that occurred. It's just that your target audience may not be in a physical stadium, but rather a virtual park.