Zig Ziglar was a positive influence on my early adult life. He finished his job on earth some time back after a life of great service.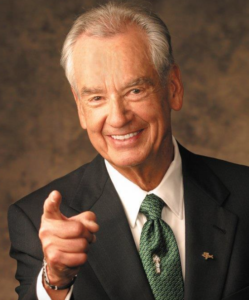 Here's one of Zig's quotes that I resonate with:
"I've got to say no to the good so I can say yes to the best."
Please spend time in quiet contemplation of this statement. It says so much.
Many of my clients will tell you that I often share one of Warren Buffet's success secrets that's clearly related to Zig's quote. Warren says no to 99 out of 100 opportunities that come his way, so he can say yes to the 1 best one. There's no doubt that many of the rejected 99 opportunities were good ones, but that's the point. They were just good. Are you accepting good opportunities and inadvertently missing the best ones? I know I'm susceptible and have plenty of room to grow in this area.
Look back upon 2017 and review the opportunities that came your way. Did you say no to many more than you said yes to? Can you honestly say you took advantage of the best opportunity of the year?
Now it is possible that a best opportunity hasn't come your way lately. It's okay. Just be patient and wait for it. There's a related idea I want to share with you now as you patiently await an excellent opportunity.
While growing up my grandmother would often repeat a saying that goes like this: Good, Better, Best. Never let it rest. Till your good is better, and your better's best.
What is something you are good at that meaningfully contributes to the success you are currently enjoying in life? What would it mean to your life if you were even better at that? What would it mean if you were truly one of the best around at it? Perhaps you can find out in 2018 what saying yes to being the best in one important area will provoke. Chances are your opportunities are going to improve as you improve.
Want more Zig? See the attached PDF for a collection of quotes from Zig courtesy of Kevin Harrington. He's the pitchman for a new sales course based on the teachings of Zig.