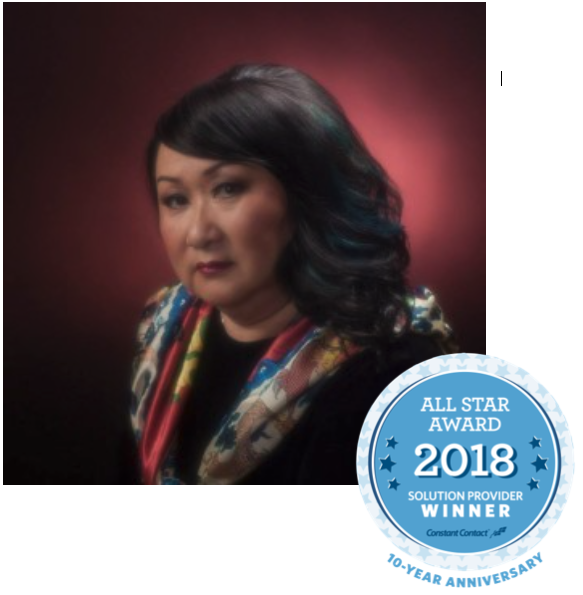 In early 2019, our client Janet Louie with Golden Phoenix Feng Shui, was given the All Star Award from Constant Contact for the way she managed her use of their email services. She is diligent, consistent, creative and sales focused with her email marketing. We are honored to be the marketing partner for her as the agency that got her started using Constant Contact. We decided to recognize this milestone by interviewing Janet and learning more about her use of email marketing. Read on for the full All Star scoop.
What is your newsletter about?
My newsletter is basically about me. What I am doing. What classes I am taking. Where I am traveling to. The latest trends about Feng Shui. All of it revolves around Feng Shui because it's my lifestyle. It is a very personalized newsletter.
How long have you been using Constant Contact?
Since March of 2014. The first newsletter we sent out was on March 13, 2014.
How much time do you put in to writing each newsletter?
If I focus well, I can finish it in one week.
What information is in your newsletter?
I have a "Spiritual Garden" section in my newsletter where I feature a client, friends and/or colleague and invite them to share any of their information, classes and so on. When I send out a newsletter, they usually present valuable information about Feng Shui.
I don't send out a newsletter just for the sake of sending it out. I send out a newsletter when I have new information to share. I also don't repeat the same information in multiple newsletters. I took a mastery class recently and I shared the information I learned from that class with the people on my list. Mind you my list includes competitors and colleagues who want to see what I am up to. One of my teachers complimented me recently by saying I had succeeded beyond all of my classmates.

How is email marketing working for your business?
I am a Feng Shui consultant and I also hold occasional workshops and classes. Email marketing keeps me in touch with the Bay Area Feng Shui community and with my clients. This is a key communication and awareness-building tool for me. It is also a good vehicle to sell my services.
What are you able to do with email marketing?
With email marketing I am able to share about my new classes and my experiences with Feng Shui. I am also able to share Joey Yap's Feng Shui offerings. I am affiliated with Joey. I am able talk about his home courses, books, and products for sale in my newsletter.
Recently, I debuted a new online class offering which I talked about in my newsletter. I also used Constant Contact to send out emails to my students who were taking that specific class. This way, all of them would get the information at the same time and I would know who opened the class recordings and so on.
What results have you gotten from your clients?
I have gotten a LOT of results. When I first announced that I had started selling Joey Yap's books and calendars for a discount price, a lot of my readers bought from me. I even sold out of the first set of products and had to re-order more. Even though I don't promote aggressively, people know I resell these products, and they come back to me to order more.
The newsletter gives me exposure, but I always follow up with my clients and I think that's why it works so well. They get and see the latest information I have to share. After that, all I have to do is follow up with my engaged readers. Following up is important because it makes it a more personal invite.
My newsletter has also opened up opportunities for me to work with my colleagues. They see what I am doing and then reach out to work together.
I am really happy with the level of work I am getting now based in part on my email marketing.
We at Build & Balance want to congratulate Janet on her award, and more importantly, on her results with consistent and creative email marketing. If you would like to learn more about how Constant Contact and email marketing could work for you, contact us for a complimentary strategy session.