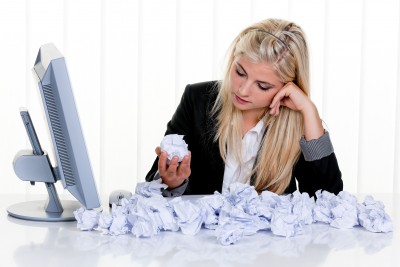 It is a good idea to create your own content. Indeed, content is one of the best ways to expose your expertise and business online and via email. Moreover the search engine optimization benefits of putting good content online are a nice bonus. It's easier said than done though, isn't it?
There are multiple reasons why small business owners don't create content. The three main reasons are time, confidence and ideas.
If you're challenged by any of the above conditions, then fret not, there is an alternative strategy that's a good one to still get you a lot of attention: content curation.
"Don't just trust that because
the title is catchy it's going
to be good content."
It's no revelation that we are firmly in the land of information overload. With 150 million blogs and counting there is so much content being created every single day that the average person has no idea how to sift through it without spending hours and hours. That's an activity few of us have time for. So, we need aggregators and curators to help us.
These are people who dedicate time to filtering through the landslide of content to find the best nuggets. Then, they share those with their followers. The curator looks good for finding really good information that helps their followers and the recipients save valuable time by getting just what they need to move forward in their work. Here's some insight in to how I curate good content to share regularly.
First you need to settle on a few great blogs and figure out how you'll get them. We have options and i recommend using a few of them. I get some blogs by email while others are in my Facebook News Feed or LinkedIn Updates. Of course, I use Twitter and then there's LinkedIn Today.
On my tablet specifically, I use Google Reader and Buffer together. I can go through about 15 – 20 blog posts in an hour and find about 3 or 4 that are worth sharing. Then, I add them to my Buffer to be shared on Twitter and Facebook at a later time. If I want to share the posts on LinkedIn, then I'll use HootSuite instead.
Now it takes me an hour to go through 15 – 20 posts because I'll actually read them before considering sharing them to my networks. This is really important if you want to succeed as a curator. Don't just trust that because the title is catchy it's going to be good content. If it is a good post I'll go ahead and add a Comment that gets me a little mention on the page along with a link back to my website.
Much of what I share on my social networks is curated content. It's the only way I can keep up with posting daily. When it comes to my newsletter though, I still write my own content. I will grab choice videos from YouTube and share them as part of an article. Recently I featured a video from Tom Peters, which garnered multiple click-throughs. So, you can curate videos just as you can blog posts and you probably should since there are many who'd rather watch a video then read another blog post. You could also curate photos if that's what your audience appreciates.
The point is this: If you can't create great content for whatever reason, then you can move one step to the right and share someone else's. There are still benefits that will accrue to you and you'll feel good to still be able to participate in social media and even your newsletter if you're inclined to share good content there. As for your website, we're talking guest bloggers, which is another good strategy. Let me know if you're using curation to share content and other ideas you have to find good content.