You know how much I love public speaking as a means to grow my business. This year I plan to double down and do even more public speaking and raise my fees.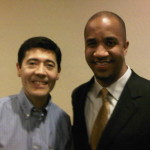 I'm doing this because I'm better now than I was at this time last year. One sure reason I'm better is because I trained with Craig Valentine. He's the 1999 winner of the International Speech Competition. It's a Toastmasters backed event and I believe something like 25,000 speakers compete at the very beginning of this global contest.
Since achieving that incredible goal Craig has been working with other speakers to improve their skills. I enrolled in Craig's World Class Speaking program last year and became certified by him to teach his methods. What a great program that was! I learned a great deal from this master of the platform.
I don't like to keep my best sources of enrichment a secret. This is why I'm teaching a workshop on February 15th called World Class Public Speaking: The Basics.
I want to arm you with knowledge and techniques to do a better job when you take the floor. That's how you start to improve by working on your mental state as well as gain basic skills. From that point your improvement will accelerate because you won't hold yourself back. Find out more about it and register today.