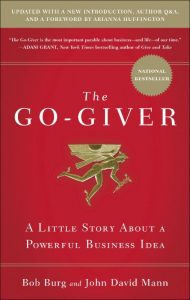 I can think of no better way to refresh your mindset than with the clear understanding that giving leads to receiving.
In our culture we laud the Go-Getter, but there's actually a better approach: Being a Go-Giver.
Bob Burg wrote the original edition of The Go-giver with John David Mann nearly 10 years ago. I have given the book to countless clients and even brought Bob Burg to the Peninsula to present the key ideas in this book live. What a pleasure it was to see Bob update this great book with a new foreword by Arianna Huffington, an introduction, and a discussion guide.
There are Five Laws of Stratospheric Success and you'll discover each one in this easy to read and profound parable about a character named Joe. By the way, this book is ideal for anyone in any profession. I recommend it for salespeople especially.
You can find out more about the book and order it on Amazon.