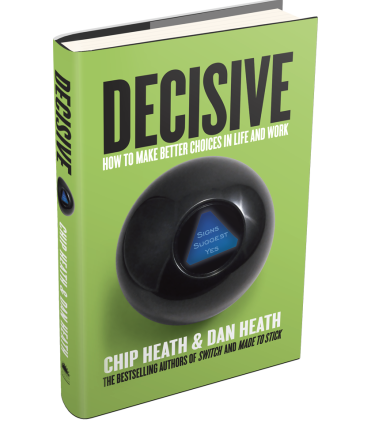 The person you are today is the sum total of the decisions you've made in the past. This year will be fantastic, great, average, or fair in large part due to the decisions you'll make. Every day we're driven to make decisions in our businesses about strategy, employees, marketing, finance and more.
Considering how often we make decisions, doesn't it make you wonder why you haven't read a book about how to make better decisions? It's time to read Decisive.
Authored by two brothers, Chip and Dan Heath, the book is packed with great stories and methods to employ for better decision-making. I will venture to say you could take your year up a notch if you read and apply the ideas in this book. It's that good. Here's one decision-making process from the Heath brothers: The 10-10-10 process.
How will the decision you're about to make affect you in 10 minutes? 10 months? How about 10 years? Looking at a decision's effects in different timeframes can cause you to see it altogether differently. It's time to go beyond asking close friends, or drawing a line down a piece of paper and scratching out the pros and cons. Decide now to read Decisive (also available as an audiobook).