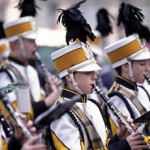 I've invested in having a unified look among my multiple online presences: twitter page, blog, website, and newsletter. I did this because it makes sense. In the real world you work hard to portray yourself and your business consistently. (If you don't, then you should.)
So, why shouldn't it be this way online, too? It's tempting to just go with whatever design template is available at the time when you sign up for an online presence. Twitter, Constant Contact (my newsletter's provider), WordPress (blogging service), and HostMonster (my web host) all have numerous free templates to choose from. And this is what I did at first – choose whatever seemed kinda green and tan (classic Growth Coach colors) and went forward.
But after doing all this I realized that my various instruments weren't creating one beautiful melody. That was not powerful, but rather counterproductive. So, I hired Erin as I mentioned in the intro above.
Now I challenge you to look at my blog site, my newsletter (sign up if you haven't), and twitter page and say that it doesn't look professional. I'm not trying to brag, I'm trying to make an important point. You should want this for your business. Impressions count. How you come across online is too important in this age and this geography to take lightly.
Contact me if you have any questions about this. I'd be happy to talk with you about the online instruments you're using and how to make them part of one orchestra.